Do you fly solo?
Most colorers learn to color from other colorers, and this leads to a lot of segregated thinking in the coloring world.
"Today's tutorial demonstrates how to color a unicorn with Copic Markers. Tune in tomorrow when we color tropical fish with Inktense Pencils. Next week, I'll show you how to color a landscape with Polychromos pencils!"
That's flying solo. Using one product per project. Sure, you might accent something with a white gel pen or sprinkle on a little glitter, but for the most part, you're doing all the coloring with one product.
I never fly solo.
Never.
And it makes a gigantic difference in my coloring.
More than talent, more than skills, more than techniques that I've developed or learned... The fact that I mix media is the single largest contributor to the quality of my projects, classes, and courses.
I mix colored pencils into every single project.
Here's why.
Note: this article contains affiliate links.
Never fight your supplies!
Nobody travels to Hawaii on a unicycle.
And if you want to fix a leaky faucet, you don't pull out a chainsaw, right?
Smart colorers match the tool to the task.
Yes, it's possible to go places on a unicycle but you'll have a really hard time peddling across the Pacific. And isn't the chainsaw a tad overkill?
You laugh at my crazy metaphors but many of you are using a chainsaw on all of your projects.
Copic Markers are a chainsaw.
Experienced Copic folks talk about how easy it is to add color and details with the tip of their Copic brush nib... but in the hands of a beginner? That brush nib is wet and floppy not to mention that it's really big!
I'm a Copic instructor. I love my Copics with a deep passion.
But even I can admit that they're not always the right tool for the task.
That's why I mix my media. When the Copic Marker is the wrong tool to get the realism, detail, or even the color I want, I simply switch tools. I color small details with Copic friendly pens like colored Multiliners or Staedtler Triplus. I add large dreamy backgrounds with Distress Inks. I get drippy effects with acrylic inks or watercolor.
But for every Copic project, at least 30% of the coloring is always done with colored pencils.
Here are five reasons why.
1. colored pencils provide control
Think about it, we've been using pencils since kindergarten.
Writing is an incredibly complicated thing to do. It's not just making swishes and swirls, it's making meaningful swishes in a straight row, in a pattern, at a consistent size. Writing isn't free-form, there is a complex reason behind each movement.
Writing might just be the most detailed and intricate thing you do in your lifetime!
And you barely even think about writing as you're doing it!
To write is an amazing skill.
Dolphins and chimpanzees may be smart but they're not writing a grocery list on the back of a gum wrapper while talking on the phone kind of smart.
A lot of people assume that I switch to colored pencils because of the nib size.
Well, pencils don't really have a nib but you get the idea. The point of a pencil is so much smaller and finer than the point of a marker nib.
So yes, there's an efficiency rationale to switch from marker to pencil. Tiny points can get into tiny areas.
But the real reason why I switch to pencils is because with pencil, I don't have to think so much.
Even after years of experience, I still mentally coach myself through some parts of the marker process. Markering is never a totally unconscious movement for me.
Meanwhile with colored pencil, I don't have to think about stroke shape, the moisture levels, or the blends as much.
Because the pencil feels like an old friend in my hand, I can place more focus on being artistic, capturing light and detail, and making courageous color decisions.
Colored pencils provide the control I need to get into small areas but they also allow me to set my mind to more important tasks.
2. Colored Pencils add realistic texture
I see a lot of tutorials on how to add texture with markers. It seems like 95% of them involve the use of a Colorless Blender marker.
But how many realistic textures are pale wet marks on a dark background?
Sure, you can soak a piece of burlap in colorless blender solution and lay it over a scarecrow's pants to create "the look" of burlap. But does it really look like burlap?
NO!
We say it "looks like burlap" because we're being kind. We can tell you used a piece of burlap to make the mark, but it doesn't look like real burlap fabric.
It's cute, but you're not fooling anyone.
And that's the problem with almost all marker texture tutorials. They're fun and interesting things to do but they aren't simulating real life materials.
Marker texture almost never adds realism.
For starters, marker texture is usually out of scale.
You can draw hairs on a girl or add striations to a Dahlia flower petal but it doesn't look real because a Copic stroke is too big.
You're drawing dreadlocks, not strands of hair!
The other problem is that marker is a wet medium. It's hard to make crisp and sharp marks with wet stuff. Markers ooze and bleed. There is always bleeding, even on marker paper designed to minimize feathering or seepage. The liquid ink wants to spread, that's its nature. Marker strokes always have soft edges.
Colored pencil pigment is dry. It stays put.
This allows you to make more precise marks with crisper edges. That's important to drawing whiskers, eye lashes, fur, flower stamens, and even the threads in burlap.
Remember when I said not to fight your tools? You could fight a marker to make whiskers but it's smarter to switch to a colored pencil.
Colored pencils can provide more accurate and realistic texture than a wet marker can.
3. color correction
The marker you use is not usually the color we see.
I've got a whole article about it here but let me summarize:
Color is relative.
We judge a color based on what other colors are around it. Dark pink only looks dark if you put it next to a lighter pink. Next to black, dark pink looks light.
Now take this concept and apply it to your coloring process.
We color on white paper, so we judge the first three to four markers based on how they look on white paper.
This is why you sometimes start with a mild color like R24 and as soon as it touches the paper, you recoil and think "No! That marker is way too dark!"
The R24 in this dahlia only looks dark next to white. In the completed project, that same R24 looks rather pale.
As you progress through any coloring project, your interpretation of those first few markers will change.
What felt right at the start will feel wrong at the end.
This is why I stress the importance of going back to adjust and rebalance the colors in your project.
Colored pencil is a quick and easy way to go back and deepen or lighten your marker color.
If you're clever and choose a very translucent pencil and then you use soft strokes at a very light pressure, the colored pencil can fix the marker and yet remain almost invisible to your viewers.
Let's look at this more deeply in the next point...

4. The dangers of re-opening a blend
I know, I know... all of the Copic Marker literature says that you can go back at any time to fix a blend.
You can re-blend five minutes later or you can do it five years later.
Yes. This is true.
Copic ink does not contain sealant ingredients that cause paint and other mediums to "set" or "cure" to a permanent layer. This means you can always go back and re-open a blend.
You can do it. But should you do it?
I'd like to think I'm pretty good at this marker stuff, but even I shudder at the thought of re-opening a blend.
Markers always blend best wet into wet. No matter how well you rehydrate the area, you will always leave traces and signs that you were there.
A fix will never look as good as an original blend.
There will be drying marks or rings around your new wet zone, where the new marker met old dry ink.
And there is always the risk of over-saturating the paper. If you've already re-blended something three times, a fourth pass tomorrow is likely going to saturate the paper and cause an oily looking buildup (see #6 here).
The other danger in re-opening a blend is the Law of Addition. The Y11 in this Dahlia project only looks like Y11 because you're looking at one coat of Y11.
Two coats of Y11 would look slightly darker. The more blending you do, the darker it gets. Three to four coats of Y11 looks more like Y12 or Y13.
So re-opening a blend makes the entire area darker. If you re-open just one petal, it might get smoother but it will no longer match the other single-coated petals anymore.
Colored pencil is a dry medium. It can be used to correct color and smooth a blend without re-opening the marker ink.
Pencil is safer because far too often the Copic fix is worse than the original mistake.
5. Colored pencil is erasable!
I have to admit, this is a big selling point for me.
Colored pencil can be lifted, softened, or even erased.
If you don't like the look of what you've added with colored pencil, erase it and start over!
You can't do that with Copics.
With markers, mistakes are either permanent or near-on impossible to fix.
It doesn't matter if you've been coloring for two months or for twenty years, there is a real comfort in knowing that you can always go back and erase.
This freedom allows you be bolder and more experimental too.
I've used a deep Prussian Green pencil to shade the petals throughout this dahlia project. I'm pretty sure I might never have tried the green-over-pink combination if I had been working with only Copics.
But with colored pencils?
C'est la vie!
What's the worst that can happen?
An eraser is the safety net that allows you to make crazy art decisions. When every move is permanent, we're always afraid to fail.
Now I don't want to give the impression that colored pencil erases cleanly. Every brand lifts differently and you'll never erase back to pristine white paper. But a piece of sticky tack, a white grit-free eraser, or a lightly abrasive black eraser can give you enough lift to try again. And that second shot is often all you need to get it right!
Erasable colored pencil encourages you to practice, experiment, or just to color with relaxation and ease.
Want to learn more about colored pencil over Copic?
Like how to use colored pencils to delicately shade flower petals for greater realism and depth?
Join me for a fun Copic + Colored Pencil lesson at Patreon!
Sorry, this class has expired
For current the current selection of Livestream classes, please see here.
(Here's a handy-dandy time zone converter to calculate your local time)
What is Vanilla Live-Stream?
It's a live broadcast- just like the evening news but with me instead of the creepy weather guy in a toupee...
Vanilla Livestream is my local intermediate & advanced level coloring class, but online!
I'll walk you through my coloring process, discussing the ins and outs of the project.
We always cover a bunch of artsy tips and tricks which you can apply to tons of other projects.
There's even a live chat to ask questions and get immediate answers.
Every month, we tackle a new art technique or creative process, helping you develop your artistic skills and realism!
Can't attend live?
Not a problem!
All livestreams are recorded and available to members immediately after each broadcast for replay. You can watch six months worth of recorded sessions, replaying them as many times as you need to understand the lesson and finish the project.
Hey, that's something you definitely can't do in my live class!
Marcella Hawley, the amazing artist at Power Poppy is giving all my Patreon members 20% off the class digital stamp! It's an instant download from PowerPoppy.com; just print it to a Copic safe paper and color along with me!
Want to know more about how this class works?
Want the project supply list and lesson info?
july Live-Stream:
You must be an enrolled at Patreon.com/VanillaArtsCo to participate
Sorry, this class has expired
For current the current selection of Livestream classes, please see here.
Lesson: How to overpaint with colored pencils to minimize the muddy colors that often come with shading.
Stamp: Dahlia (or Dahlia XL cling stamp) by Power Poppy
Medium: Copic Marker and Prismacolor Soft-Core Pencils
Skill Level: Intermediate through advanced colorers. Once you can blend Copics smoothly with confidence, you're ready to join us! No drawing skills necessary.
Join me online for a lesson that will change the way you color!
Plus, it'll be fun!
Supplies used in "Dahlia":
(partial list, contains affiliate links to Amazon and Dick Blick)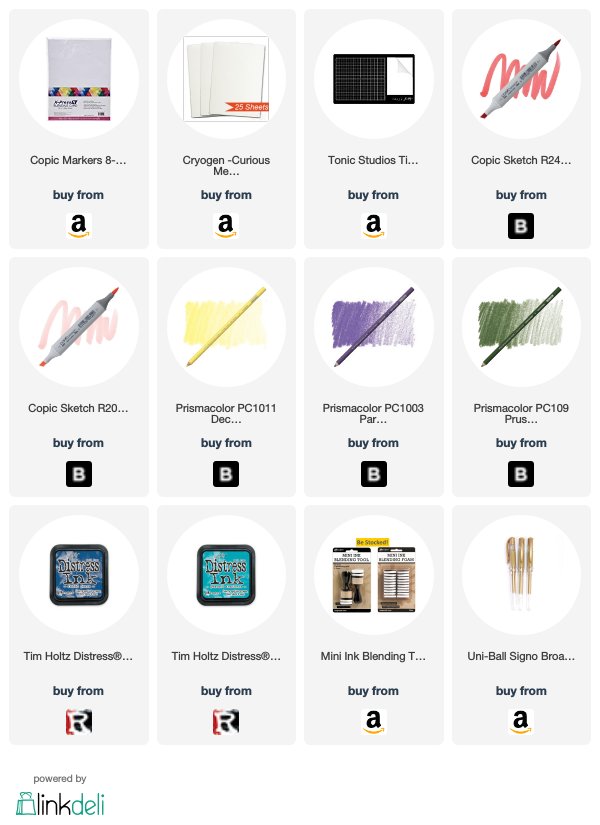 Vanilla Arts Company is a participant in the Amazon Services LLC Associates Program, an affiliate advertising program designed to provide a means for use to earn fees by linking to Amazon.com.