Celebrate Summer with Copic Markers!
Summer is coming, let's get ready for it.
"Lemon Zest" is my latest Copic coloring image, another realism challenge for those of you who love food illustration!
This digital stamp is completely free to Free Digi Club subscribers from now until June 2017.
No strings. No spam.
It's simply a free image for you to color.
Subscribers to the FDC receive one free image every month, delivered right to your email inbox.
My digital stamps are ideal for Copic marker coloring but they also work great with colored pencil and even watercolor.
The images are full of wide open spaces to blend and celebrate pretty color. There are no distracting texture marks to get in the way of your creativity!
That's what the "Vanilla" in Vanilla Arts Co. is all about. I give you the vanilla base, you add the hot fudge, the sprinkles, the whipped cream, and the Copic ink.
Perfect for Copic Markers or Colored Pencils
I've colored the sample here with a combination of Copics and Prismacolor Premier pencils.
And very few colors at that.
You don't have to spend a fortune on new supplies!
You can color this stamp with just 9 markers and 7 pencils!
My minimalist approach uses a much smaller supply list than the average Copic project.
Lemon Zest is an intermediate to advanced level image. If you're looking for something beyond the silly stamps where the food has little smiley faces or cutesy decoration, this is the image for you!
And it can easily go large! Color it full page or half page size. Cardmakers could try it smaller with a bit less detail to the coloring OR color it large, scan, and print colored copies at a smaller scale!
(Click the image above to be taken to the Vanilla Arts channel at YouTube)
Take the Lemon Zest Class!
Learn how to shade yellow objects for realism, rather than pulling out orange or brown markers which don't look the least bit natural.
Because hey, dark yellow is absolutely NOT orange and it sure as heck isn't brown!
This Marker Painting Workshop lesson is perfect for intermediate and advanced colorers who are looking to add more realism to their projects.
Learn to color with realism- new challenges every month!
Lemon Zest takes Amy's favorite technique of underpainting (Grisaille) and modifies it for the special challenges of yellow. Learn to create lifelike depth and amazing color accuracy.
You can't color with realism if you're using traditional Copic Marker blending combos! Learn how Amy creates the necessary shady colors automatically rather than hunting through 358 markers for the correct color!
The best thing about Marker Painting Workshops:
They are NON-SEQUENTIAL!
You do not need three months of prior experience to understand the concepts and techniques in this lesson.
If you can handle basic Copic blending methods and if free tutorials aren't much of a challenge anymore, then you're ready for something more!
Learn to incorporate real artistry into your coloring projects, one concept at a time. Every Workshop details a new method for enhancing realism, depth, and dimension.
Each class stands on it's own as independent learning. You don't have to take six of my other classes to understand this lesson.
All of my Workshop classes are FOREVER ACCESS. Work at your own pace and repeat the project as many times as you'd like.
Come color with me. It's a ton of fun!
Products used in Lemon Zest:
(Affiliate links, not all materials shown)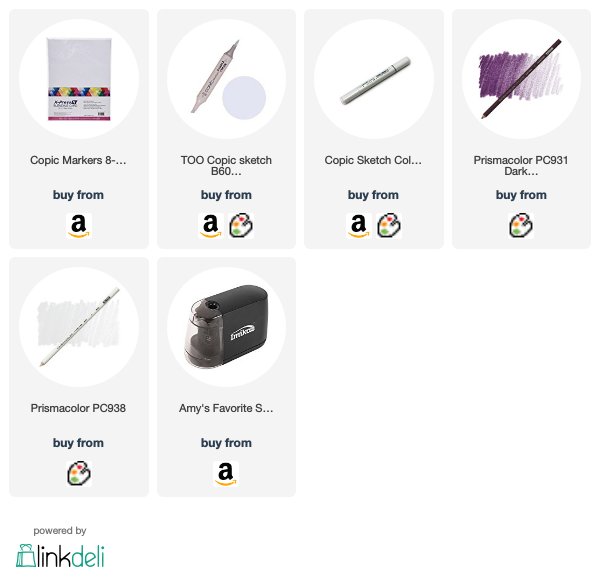 Vanilla Arts Company is a participant in the Amazon Services LLC Associates Program, an affiliate advertising program designed to provide a means for use to earn fees by linking to Amazon.com.